04 Aug

How do I add whiteboard in Microsoft Teams meeting?

To add whiteboard in Microsoft Teams meeting, you must have whiteboard enabled in your organization Office 365 tenant. You may refer my previous post:  https://bloguc.com/how-to-enable-microsoft-whiteboard-preview/

Once you have whiteboard enabled in your organization tenant then follow the below steps to add and share whiteboard in Teams meeting. Teams meeting attendees within the same Office 365 tenant will be able to start, view, and ink on whiteboards in Teams meetings.

In Teams meeting you can share a whiteboard to make it available to all participants. That same whiteboard is simultaneously available in all of the Whiteboard applications on Windows 10, iOS, and the Web App (Preview). You can also choose to open the same whiteboard in the native Microsoft Whiteboard app on Windows 10 to add additional types of content to the canvas.

To add whiteboard in Teams meetings, follow the below steps:
First join the Teams meeting.
After joining a Teams meeting, click the Share icon in the share tray of that meeting.
In the Whiteboard section, select Microsoft Whiteboard. As shown in image.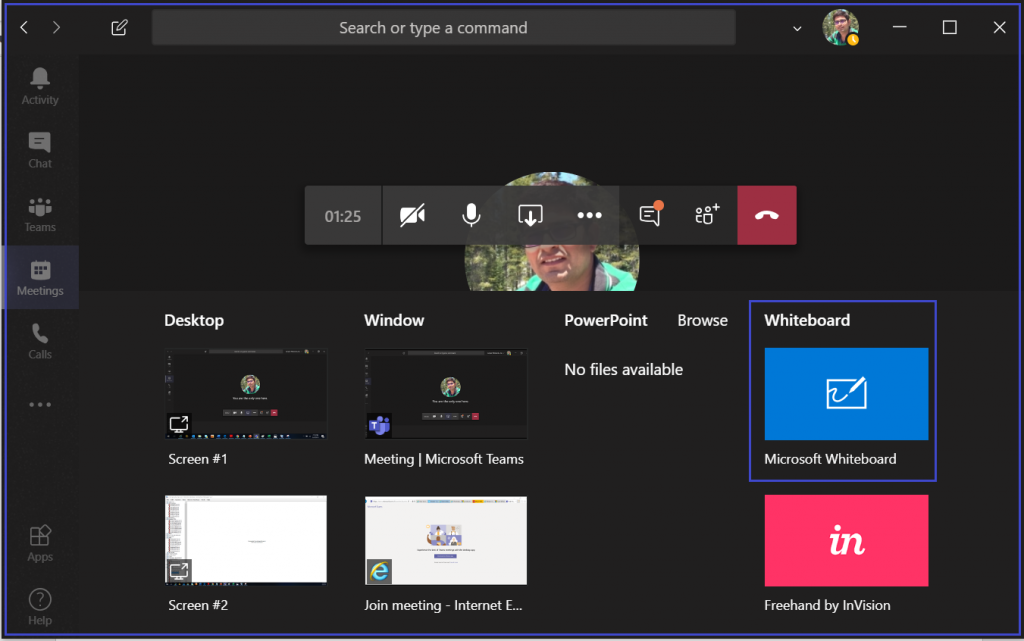 4. Whiteboard takes couple of second to load and appear to use. Refer below image.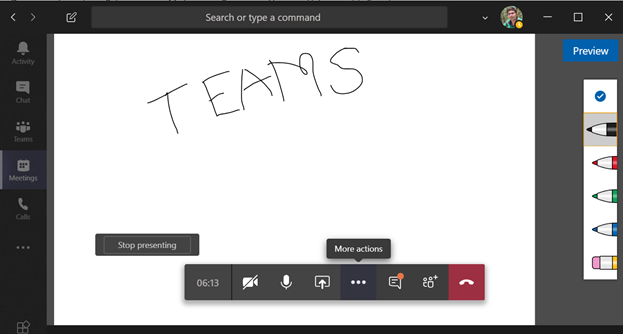 5. You may notice that this shows as preview. Remember whiteboard available in Teams meeting as preview.
6. A soon as the Whiteboard canvas has been started, Teams meeting attendees will be able to ink on it. To begin, click the Pencil icon, select a color, and then begin to draw, sketch, or write on the board. Refer above image.
7. After a Teams meeting, its whiteboard will be available to all participants from the Teams meeting chat, in a tab labeled Whiteboard. The whiteboard will also be available in the Board Picker in the Whiteboard for Windows 10 app, so that meeting attendees can continue collaborating on a whiteboard even after a meeting has ended.
Since whiteboard available as preview, so there is some limitation, here are the list of limitations.
The ability to start a new whiteboard is currently limited to the Microsoft Teams clients on Windows 10 and on the Web. The Teams iOS and Android apps can only view whiteboards that have already been created. The ability to start a new whiteboard will be added to the Teams iOS and Android apps later in 2019.
Adding other content types to the whiteboard in a Teams meeting is currently only supports inking together on the digital canvas from within Teams. Microsoft will be adding additional content types to the Whiteboard Web App (Preview), which powers the Whiteboard in Teams meetings experience.
Currently Whiteboard in Teams integration for Microsoft Teams Room is not available, it will be available in later 2019.
Another limitation is to get Whiteboard in Teams meetings on my Surface Hub is currently in Preview and available to users signed into Whiteboard.
Whiteboard in Teams meetings does not currently support starting a new whiteboard, view the whiteboard, or inking by anonymous, federated, or external users.
Thank you.