12 Apr

How do Teams meeting add-ins working in outlook?

How do Teams meeting add-ins working in outlook?

Teams meeting add-ins allow users to schedule Teams meeting using outlook. Teams outlook add-ins provide a seamless way to schedules Teams using outlook. The Teams are meeting add-ins available for Windows, macOS, Web, and even for Mobile.

Teams meeting add-in for Windows Outlook:

Teams meeting add-ins automatically installs for users who have Teams client install along with Outlook (Office 2010, 2013, and 2016) on Windows OS. You can verify by opening outlook and the clicking on the Calendar tab and then click on New Teams Meeting in Outlook or clicking on new Item and then select Teams meeting. Refer the below figure 1.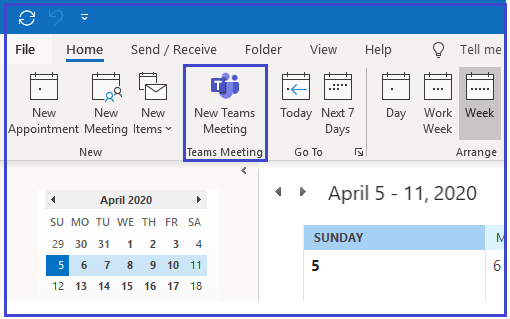 To work Teams meeting outlook add-in seamlessly:
User need permission to execute Regsvr32.exe file
Sometimes the user doesn't see Teams Meeting add-in is because the Outlook and Teams connectivity is broken to establish connectivity again tell the user to close Outlook and Teams completely (from Task Manager) and then start the Teams client first, then sign in to Teams, and then restart the Outlook client, in that exact order.
Another primary consideration if the user is using Office Outlook installation from the Microsoft store, then Teams meeting add-ins not supported by Microsoft. Use click to run for a better experience.
Note: Remember to update the outlook client version to avoid unsupported scenarios.
Resolution:
The most common reason for Teams meeting add-ins not showing is communication between Outlook and Teams apps is broken. You can establish the communication by closing both Teams and Outlook clients ultimately (end the Teams and outlook process using Task manager). And then start Teams first once sign-in then open outlook.
Teams meeting add-ins to Outlook installation occurs when the Teams client installer runs the first time. After installing the necessary files the installer will do two critical steps one is to register the COM Add-in and create the entries on the registry, you can see below image shows registry entry and validate the Loadbehavior value that must be 3, verify the value if not then set it to 3. If one of these steps fails, the Team may not show add-ins in outlook. Remember to take registry backup before modifying registry, as incorrect registry modification may causes operating system level issue. Refer below figure 2 shows registry load behavior changes.

Validate Teams add-ins enabled in outlook correctly or not. Refer below image shows add-ins setting in outlook. To do so, open Outlook > Files >Options > Add-ins > on Manage: COM Add-ins click on Go button and then validate "Microsoft Teams Meeting Add-in for Microsoft Office. Refer below figure 3.
If the issue persists, then do clean up and redeploy the Teams client. You must first uninstall Teams from their User Profile, and the MSI installer will track that the user has uninstalled the Teams app and no more extended install Teams for that User Profile. To reinstall Teams for the user on a computer where it was uninstalled, do the below:
First, uninstall Teams app installed for every user profile.
After uninstalling, delete a directory recursively under %localappdata%\Microsoft\Teams.
Redeploy the MSI package to that particular computer or install Click-to-run (C2R).
If a user who sign-in to Teams and Outlook has spaces in their account, then they may see issue Teams meeting add-in issue as there is a known issue. Microsoft is aware of it, and they will be fixing the same in a future update.
Also, the add-in will not work if an Authentication Proxy is in the network path of the user's computer and Teams Services. (make sure the web proxy is off).
Note: You can use Microsoft Teams deployment to clean up script:https://docs.microsoft.com/en-us/microsoftteams/scripts/powershell-script-teams-deployment-clean-up.
Note: Remember, the add-in is for scheduled meetings with individual participants, not for meetings in a channel. Channel meetings should be scheduled from inside the Teams app.
Teams meeting add-ins for macOS Outlook:
Sometime users may not see Teams meeting add-ins; basically, The Teams Meeting button in Outlook for Mac will appear in the Outlook for Mac ribbon if the outlook is running production build 16.24.414.0 and later and is activated with an Office 365 client subscription.
So, if you are not seeing Teams meeting add-ins in MacOS outlook, then the first thing you need to do is to update you Outlook client in macOS and then start Teams and then outlook, and then schedule new Teams meeting and check for Teams meeting add-ins.
Note: The Teams meeting, including Teams, join link, and dial-in numbers will be added to the meeting invite after the user clicks on Send.
Teams meeting add-ins in Teams Web app:
The Teams Meetings button in Outlook Web App will appear as part of new event creation if the user is on an early version of the new outlook on the web. See the Outlook Blog to learn about how users can try the early version of the new outlook on the web.
Teams meeting add-in for Outlook mobile app:
Teams meeting add-in does support for outlook mobile app for both iOS and Android; however, make you update Outlook apps on your device first before scheduling meetings.
To schedule meeting with Teams add-in in Outlook mobile, open Outlook app and then click on calendar (bottom of the app) and click on plus icon to add a new event and then turn on the Teams meeting to shows Teams meeting information (meeting link and dial-in number (enables for audio conferencing)).  Refer the figure 4 shows meeting option.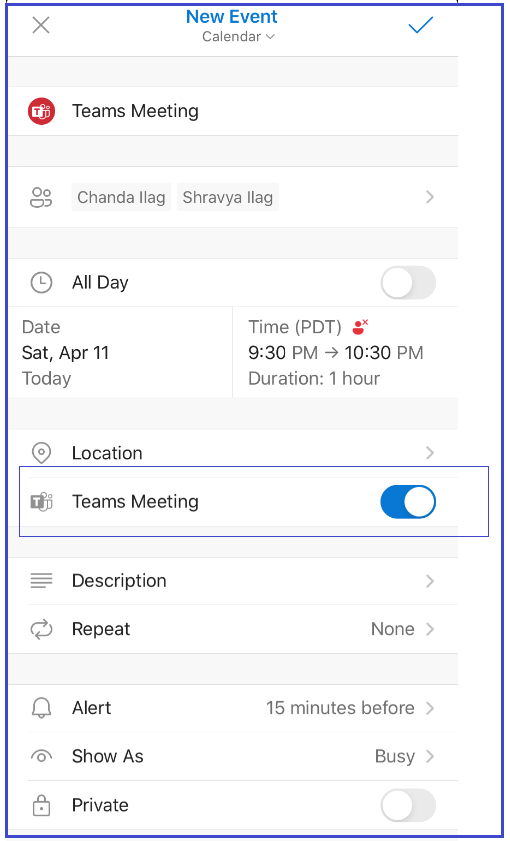 Note: Teams meeting information including Teams meeting join link and dial-in numbers) will be added to the meeting invite after the user clicks Send button.
Thank you.
Reference: https://docs.microsoft.com/en-us/microsoftteams/teams-add-in-for-outlook