22 Dec

In Microsoft Teams meeting Desktop Sharing control doesn't work in macOS

Microsoft Teams has multiple features, and an online meeting is one of them. Teams meeting work very well with optimal call quality for audio, video, and desktop sharing. One of the features that Skype for Business was lacking is desktop sharing with control for macOS, which means when you join Skype for Business meetings using Mac, you can share a desktop that everyone can see; however, you cannot share control to allow others to manage your desktop.

Microsoft Teams does support desktop sharing with control means you can share desktop in Teams meeting with allowing another attendee to control your Mac desktop.

Recently I noticed that the user can't give control in Teams meeting using Teams macOS client. In reality, the user can share control with other teams meeting participants. However, the participant who got control cannot control the Mac desktop in Teams meeting, and there will be no error message or any indication that tells the control not working, which is frustrating.

As a Teams admin, it is a wise decision to verify your Microsoft Teams admin center setting that allows Teams meeting sharing control. To do that, go to Teams Admin Center> Meetings > Meeting policies > under Content sharing, make sure to turn on the allow request or give control that is applicable for your organization user and allow control to give or request control with external participant applicable to external user, allow these feature as per your organization needs.
Allow a participant to give or request control
Allow an external participant to give or request
Refer to the below image.

Most probably, sharing control issues will not resolve because it may tie with the operating system security setting. If you are still unable to share control, then follow the below steps
Close your Teams client ultimately (by right-clicking the Teams app in the dock, then holding down Option and clicking Force Quit). Open the Application Folder, select Microsoft Teams, and move it to the Trash to uninstall it, then re-installed Teams by visiting and login teams.microsoft.com. This will make sure to Teams client issue. If the issue persists, then follow the below step.
On you, MacOS, find "Security & Privacy," then click on Privacy under Privacy, click on Accessibility. First, you need to (unlock) the privacy options (by clicking on the lock button and entering your Mac credential to make changes), then click on "+" to add the Microsoft Teams to allow the Teams apps to control your Mac. Refer to the below image that shows allow the apps setting. My macOS version: macOS Mojave version 10.14.6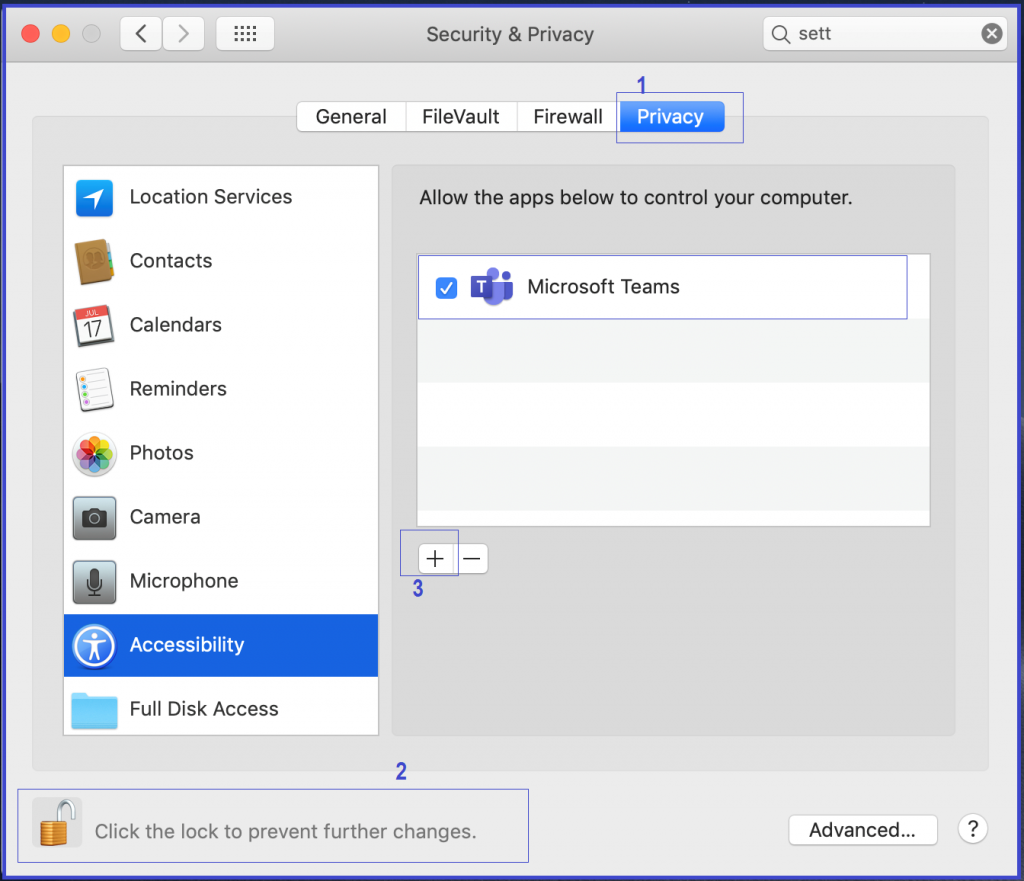 Now you test desktop sharing with sharing control by joining Teams meeting. This time you will be able to share the control.
Thank you.