10 May

Microsoft Teams enhanced meeting experience

Microsoft Teams enhanced meeting experience:

As you know, Microsoft Teams has robust calling and meeting experience with optimal audio/ video quality. Microsoft is going to roll out the new features to enhance the Teams meeting/calling experience even further, by adding new features such as nine simultaneous video displays, Raise hands feature, Call control to relocate to the top on the windows, call and meeting windows separate and background effect with a custom background.

Call and meeting window separate:  Users will have the ability to view the meetings and the calls in separate windows from the main Teams client. These separate windows feature to allow the user to participate in meeting or call while making chat conversation or accessing files in the Teams main client.

Nine (3×3) concurrent videos displays, this allows meeting attendees to have virtual face-to-face meeting experience with multiple people while working from home. Using this new experience, Teams attendee sees 9 participant videos (if enabled) and the rest of the attendee as audio-only. Additionally, the video arrangement will adjust based on the user network bandwidth and change the number of videos shown to provide the best meeting experience. Multi-video is one of the most asked features that Microsoft is adding to Teams.

Raise hands feature: Raise hand is another feature that people requested most; it is helping meeting attendees to identify that they want to talk. Specifically, in the large meeting, raise hand features is more useful by allowing attendees to raise a hand when they want to speak. When the attendee raises hands, Teams shows the visual hand symbol on the attendee, which will be seen by all the meeting participant. Also, the visual symbol shows in the attendee list as well, which is helpful for the meeting organizer to allow them to participate in the meeting.

Call control on top without blocking content: I didn't like the Teams meeting call control shows in the middle of the windows, which blocks some content. Finally, Microsoft has heard the end-user voice and decided to change the meeting and call controls such as mute, audio, video, chat, leave, and participant list to located to the top of the meeting window so that they are always available and certainly not block the core content.

Background effects with custom background:
Teams meeting allows end-user to select background effects include Blur background; the predefined background is generally available and custom background available in the below time frame.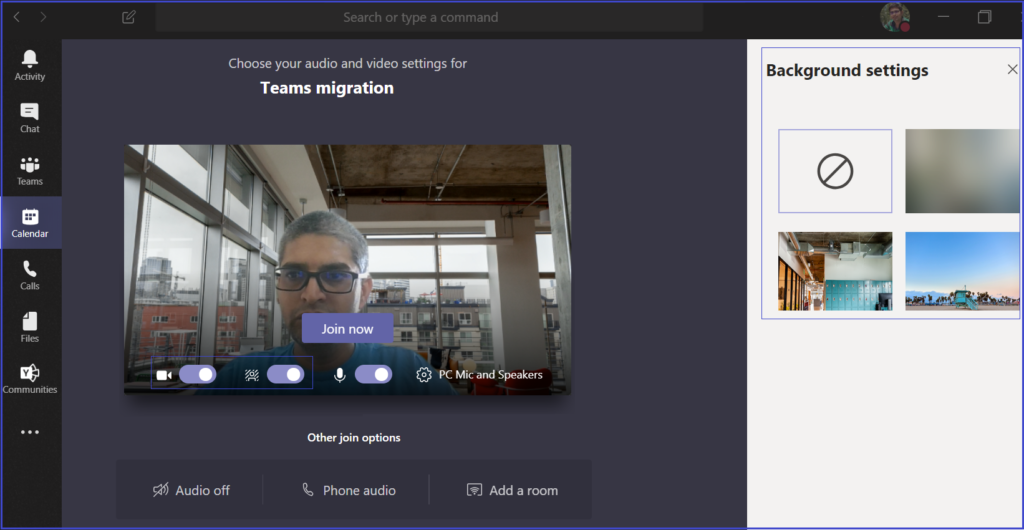 When meeting enhancement features available? And How?
Microsoft has announced that they will be rolling out the meeting enhancement features such as enabling the user to be able to view meetings and calls in separate windows, nine concurrent videos in meeting instead of four, raise hands in the meeting, meeting call control at the top of the meeting instead of blocking content and custom background features.
These feature rollout starting from June 2020, however, these features or some of the features will not available directly to the user, instead Microsoft giving the ability to end-user to turn on the new feature so that user will have extra time to become familiar with meeting enhancement feature such as having meetings open in their sperate window. Eventually, these features will be available as the default, but initial experience is end-user control.
Microsoft shared some timelines for this feature to be enabled. However, eventually, these new meeting experiences are enabled by default, and end-user cannot manage, but admin control may be available.
In June 2020 – New meeting experiences are available, and users can enable through manual settings.
In July 2020 – New meeting experiences are enabled by default, and users can disable through settings.
In August 2020 – New meeting experiences are enabled by default, and user controls are no longer available.
Note: Above mentioned timeline may be varied, and Microsoft will be providing appropriate notice for each phase through Microsoft Office 365 Message Center as an approach to the timeframe July and August 2020. If you don't see the above feature to your Teams, then you may need to wait until it deploys to your tenant.
How can a user enable to disable new meeting experience?
End-user experience through the user Teams client setting: General > Turn on new meetings and calling experiences.
In order to enable new meeting experience, login to Teams client and then click on your photo (Avatar) on the top right of Teams and click Settings and then click the Turn on new calling an meetings experiences checkbox and then restart the Teams client.
There are some known limitations:
Meeting notes will launch to the main Teams client.
Support for full-screen content viewing will be coming in the future
Support for Invision Freehand Whiteboard will be coming in the future.
You can prepare for these feature updates by educating your end-users on how they can enable the new meeting and calling experience. Besides, you may think of updating any training or documentation as appropriate.
Reference: This message is associated with Microsoft 365 Roadmap ID 57294
Thank you.