24 Jun

Stellar Repair for Outlook PST – A Review

Outlook crash and strange Outlook datafile problems put users in a fix. This morning brought in the 'Outlook shocker' for me; after booting my laptop, I clicked on the Outlook icon, and to my dismay, the application crashed. The message displayed was—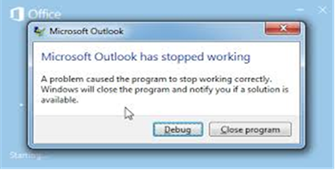 Figure 1: Outlook 2016 crashed during startup
I tried relaunching the application a few more times, but it wouldn't start; every time it threw the same error message…
Repaired PST file with Stellar Repair for Oulook
I had to recommence scouting the web all over again. This time I decided to go in for a paid Outlook repair software called Stellar Repair for Outlook that claimed of repairing large and severely corrupt Outlook data files.
The software worked as per my expectations. All I did was install the software, locate the PST file, and click the Repair button.
Since all the recovered folders were found empty in the case of Inbox Repair Tool (Scanpst.exe), I decided to double-check the folders for the available data. Thankfully, all the folders – inbox, mail attachments, calendar, people (contacts) journals, and notes contained data and in the same format as I had in my previous PST.
The software had recovered my complete mailbox data and while doing so had also maintained 100% data integrity, which came in as a pleasant surprise. Besides, the mailbox scanning and preview features were available for free in the demo version, meaning, I could view the mailbox items and know whether it would actually work.
The next step was to activate the software for saving (extracting) the mailbox data. So I wasted no further time and clicked to get the activation key. I bought the keys, and within minutes of my order confirmation, the keys were in the Inbox of my registered email.
I activated the software and extracted the mailbox data from the corrupt file. The software did not save the items in the same file. Instead, it created a new PST and stored the recovered items in that new PST. I got my entire mailbox data extracted in a fresh PST- all done and dusted in 3 steps!
Thanks to Stellar Support, the recovery was flawless, and I was able to get back the entire Outlook data and access it with ease.
To summarize, Stellar Repair for Outlook helped me locate the PST file and quickly restored the contents of the damaged PST file. Recovery from this software also ensured complete data integrity upon file recovery. The whole process from finding the PST file to scanning, activating the software and saving the data on external media was easy – thanks to the Outlook-resembling interface, which provided all critical features at a single glance.
Though I will say that the recovery process took more than the expected time— it could have been faster — but, considering that it recovered all the mail items like contacts, calendars, emails, and even the attachments, it seemed to be a great DIY tool in situations of emergency.
The software can also repair and recover data from encrypted Outlook files in Microsoft Outlook 2016, 2013, and earlier versions. But (thankfully) I haven't got into a situation to test out this feature.
These are my key takeaways from Stellar Repair for Outlook and basis these, I would recommend this Outlook repair software to anyone who's facing the brunt of Outlook profile corruption.
If you interested, then visit product by click here
Thank you.