27 May

TeamsHub.io – MS Teams Governance Platform Review

TeamsHub.io – MS Teams Governance Platform Review

Microsoft Teams is a product that provides multiple capabilities such as persistent chat, content collaboration with internal and external guests and vendors, Teams call and meeting, application integration, and so on.  From my experience, MS Teams deployment requires detailed planning and implementation, and many organizations must consider not only preparing for network latency and bandwidth, supported devices, the volume of calls, meetings, IM etc. but also plan for streamlining administration and governance. Using an application or tool to aid the management is highly recommended.

Having said that, I recently got the opportunity to test and use the TeamsHub by Cyclotron (https://TeamsHUB.io)  for MS Teams Governance Automation. TeamsHub by Cyclotron is an intelligent governance automation application with an intuitive UI that eases governance for Microsoft Teams. Administrators will love how many of the tasks can be easily achieved and scheduled for teams creation, monitoring activity using pre-built ready to use reports and security for sharing externally using MIP, IRM, and DLP.  Additionally, it provides features to make governance practical and avoid problems associated with teams sprawl, naming conventions, access sharing etc.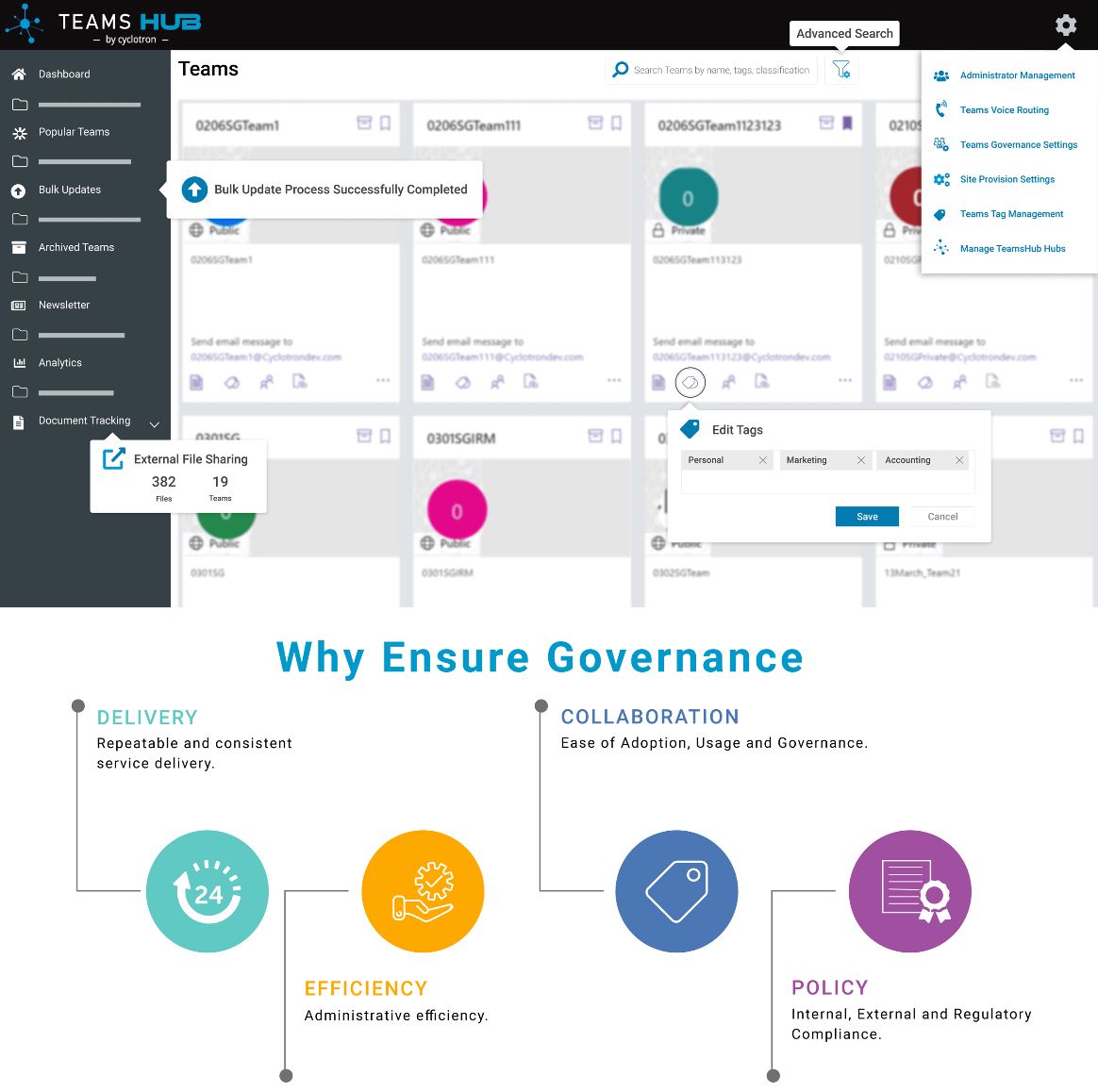 By automating provisioning, voice routing, lifecycle management – TeamsHub by Cyclotron does all this seamlessly using an application that provides a platform to aid governance, security, and lifecycle management for Teams is a lifesaver for administrators.
All in all, I would highly recommend TeamsHub by Cyclotron. My favorite part is the "Guest Access" feature which makes it very easy to be setup and configure as well as extensive reporting.
I highly encourage to use of TeamsHub by Cyclotron to get more insight for Teams workload.
Thank you.